About Us
Achieving the pinnacle of Game Development through skill and dedication. Former Co-founder and Creative Director of the acclaimed total conversion mod – MechWarrior: Living Legends, Dan "Kamikaze" Adams now dedicates his talents to building only the best game worlds for the Core gamers around the world.
---
The Team
Dan "Kamikaze" Adams
CEO and Founder



Former Co-Founder of Wandering Samurai Studios and the Creative Director of the acclaimed 2009 total conversion mod "MechWarrior: Living Legends", Dan has founded Polar Zenith studios with the plans of building new games titles that follow the same passion and dedication he showed when building MWLL. Now with over 10 years AAA experience under his belt, he begins his journey of independent game development.
"I first started doing some game development back in grade school messing around with UMS maps for Starcraft and then later dabbled in some Never Winter Nights Aurora modifications. Before MWLL, I never really did anything with 3D. However with the success of MWLL, I gained a vast amount of knowledge working in 3DS Max and learning tons about game design and development. Further working on titles like Mass Effect, Crysis 2, Ryse and Star Citizen, I have now probably touched on most parts of Game Development.
Now in 2017  it seems like this is the time where you don't need 300+ people to make a game anymore. More and more I see small teams of 1 to 6 developers making outstanding titles. This has inspired me to do the same and create Polar Zenith, a stand alone Indie Development company that will create fun and exciting game titles for any Core gamer to enjoy!"
Florian "CW/Γ Andrew" Hitz
Sound Designer
Former contributor to the highly rated mod B9 Aerospace for Kerbal Space Program and active leading sound designer for the free game MechWarrior Living Legends.
"Sound in space is not realistic but it is very cool so we still want it."
"I have always been a guy who can get a good amount of enjoyment out of a cool sounding gun shot or an explosion. I have been modding games since the first Max Payne released where I replaced a good number of sounds to make the game more to my liking among other changes I made. Modding and especially sound modding have been part of my own game experience ever since.
When the development resumed I signed up for the sound team of the free game MechWarrior Living Legends. Since then I have integrated sweeping changes into the sound environment MWLL has which have been positively received by the active player community. Being signed onto Solar Warden is me stepping into the big leagues and I am grateful for the chance to step up my game even more in this regard."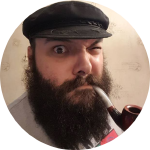 John Mark Adams
Writer and Voice Actor (Conspiracy Theorist Incarnate)
After a brief stint in the US Army, John Mark Adams went to college for a while for English Certification. Why he wanted to be an English teacher, nobody can say. He switched his major after the first year to "Game and Simulation Programming". In this, he excelled greatly. But, as is often the case, the money ran out. So he moved to DC, one of the most expensive cities in the United States. Because – he's smart, you see.
There he met his wife and, once rent became far too expensive, he moved back to his home state of Texas where he now works as an inspector for a major oil company. One day, his sister contacted him explaining her husband was making a game called Solar Warden and she voluntold John Mark to be a voice for the announcement trailer. Dan, loved the voice so much, he made Jonathan Marcus a permanent character. And the rest is history.